01 Dec

InTheHammer: Friends-inspired Hamilton condo moves forward after 90% sell-out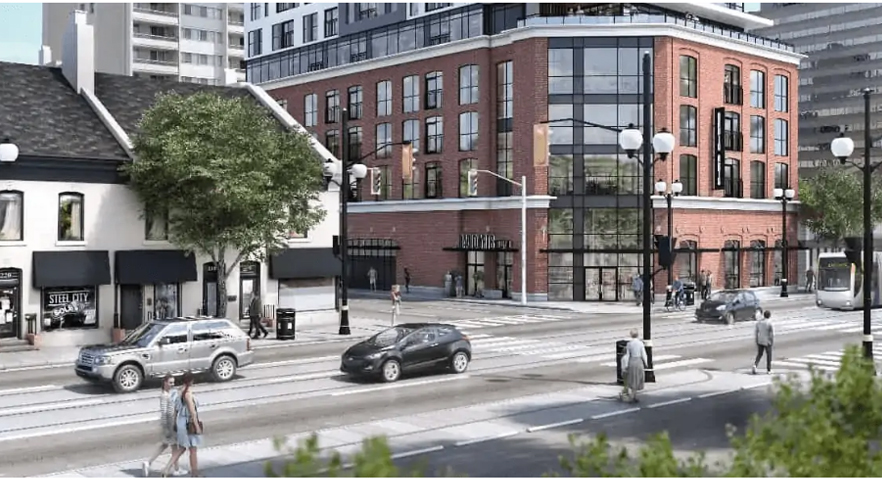 The construction of Radio Arts is underway at the corner of King and Caroline St. after 90 per cent of the units have reportedly been sold.
Developers are calling it one of the most successful projects in Hamilton and the Greater Toronto Area. The construction of Radio Arts, nestled at the corner of King and Caroline streets, is already underway after 90 per cent of the units have reportedly been spoken for. Developers say over 50 units were sold in the first week.
The development base will have a Friends twist, with a Central Perk-inspired coffee bar — allowing residents and the public to gather like Joey, Monica, and Chandler did on the hit TV show.
"I'm humbled by our success and thrilled to start construction on Radio Arts in downtown Hamilton," says Vernon Shaw, president of Canlight Realty. "Our success is proof that when you have a site along a new LRT line and a clear vision for a boutique residence that delivers what people want, everything else will fall into place."
The 14-storey residence is being built at 206 King St. West, the former location of CHIQ radio — later renamed CHAM — hence Radio Arts. The latest tenant was Hamilton Store Fixtures.
In June, the century-old building was destroyed after an early-morning blaze left a pile of rubble in its place.
It could be as late as September before a mountain of debris left in the wake of a massive fire at a historic downtown building last month is cleared.
A nearly street-light-high pile of rubble replaced the former Hamilton Store Fixtures on June 18 after an early-morning blaze flattened the century-old building at the corner of King and Caroline streets.
The Radio Arts developer says their early success, despite the adversity caused by the fire, market uncertainty, and supply chain chaos, "exemplifies a promise for the future of Hamilton."
"As investments pour into Hamilton's city centre, Radio Arts is providing the backdrop for much-needed new transit and entertainment infrastructure," reads an official statement from Canlight Realty.
The $3.4 billion LRT line will be at Radio Arts' doorstep, going from McMaster University, through downtown, to Eastgate Centennial Park in Stoney Creek. It will cover 14 kilometres with 17 stops.
"In addition to the new transit line, GO train services will be expanded, making it even more convenient for people to travel the region," Canlight Realty added. "The announcement of new transit infrastructure is coupled with the city-backed redevelopment of the Entertainment District. "
The downtown entertainment precinct will see $500 million in renovations to FirstOntario Centre, the Hamilton Convention Centre, and FirstOntario Concert Hall.
Suites at Radio Arts will range from studios to three-bedroom units. Amenities will include a state-of-the-art fitness studio, social lounge, co-working space, and Wi-Fi lounge that overlooks King Street with an outdoor terrace featuring "brightly coloured accents and furnishings."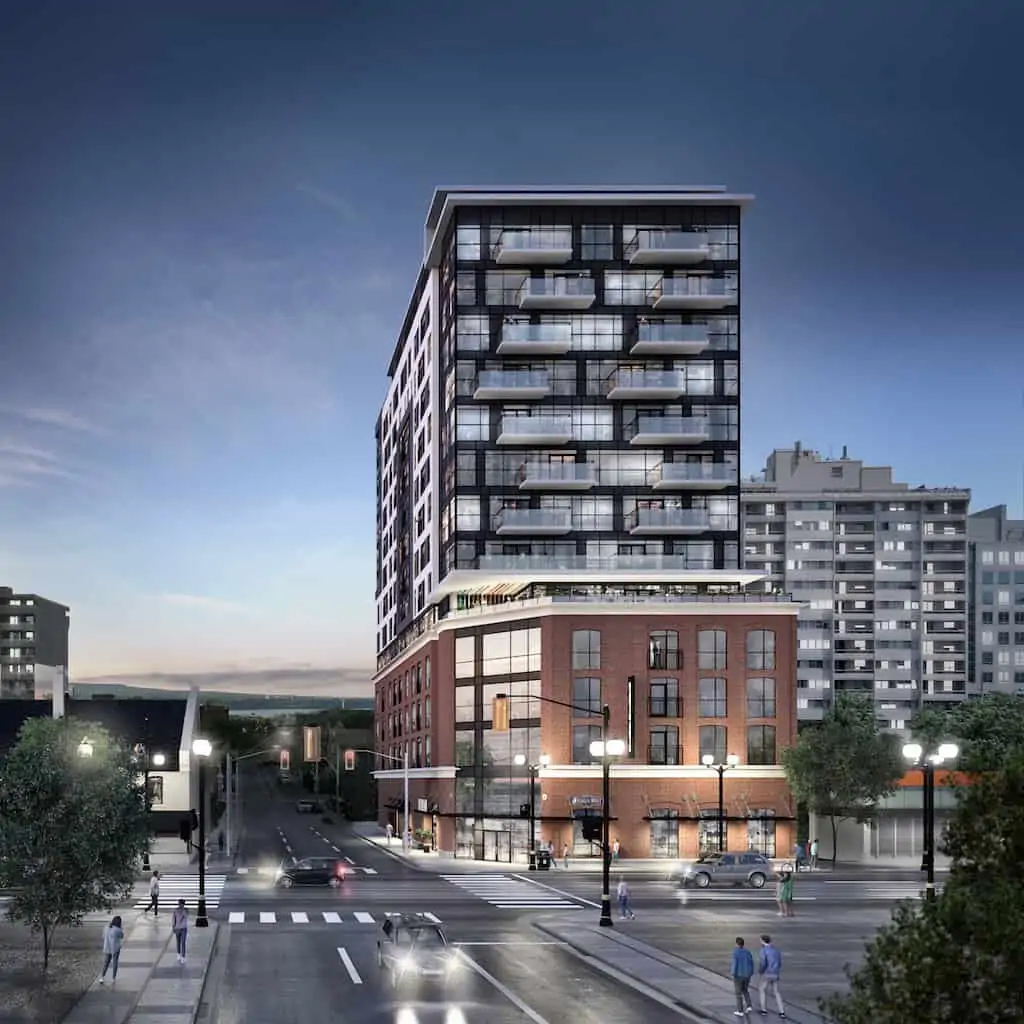 Developers say digital concierge services will also be available to allow residents to manage guest access, home deliveries, and more from their smartphones.
Radio Arts will be the first development in Hamilton to feature stacked vehicle parking. Canlight says there will also be "ample bike storage."
"The four-storey podium pays homage to the original 1908 building design in its masonry details and arched windows," according to Canlight Realty. "A glass-bevelled corner highlights the ground-floor retail and the condo's active amenity spaces, such as a fitness studio and coworking lounge. Rising above the podium, a black and white clad residential tower with staggered balconies adds a playful contrast to the brick with modern simplicity."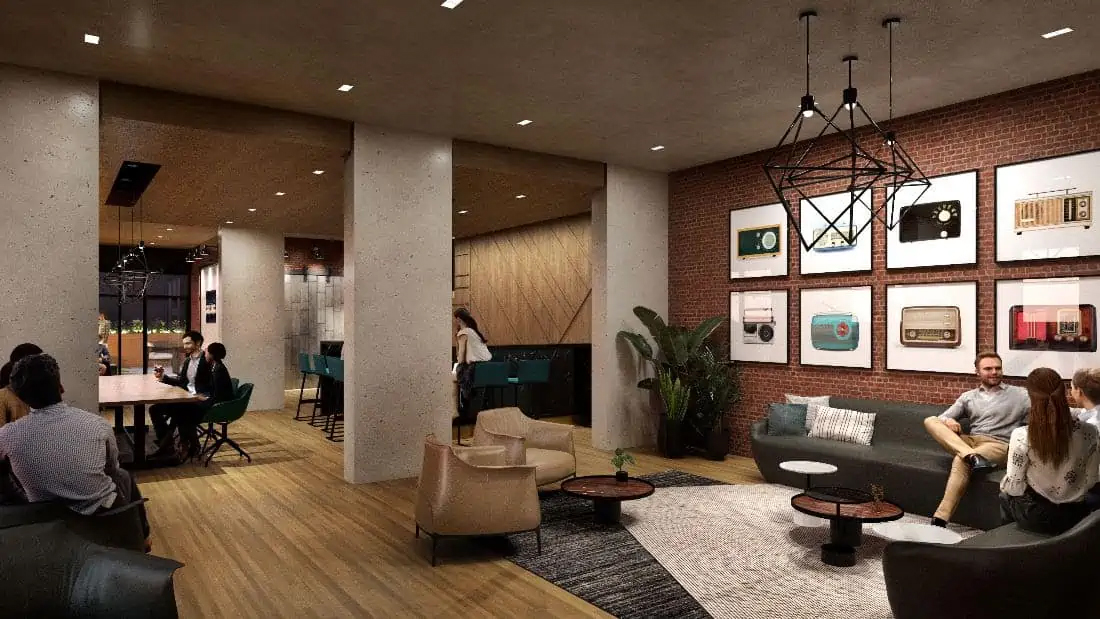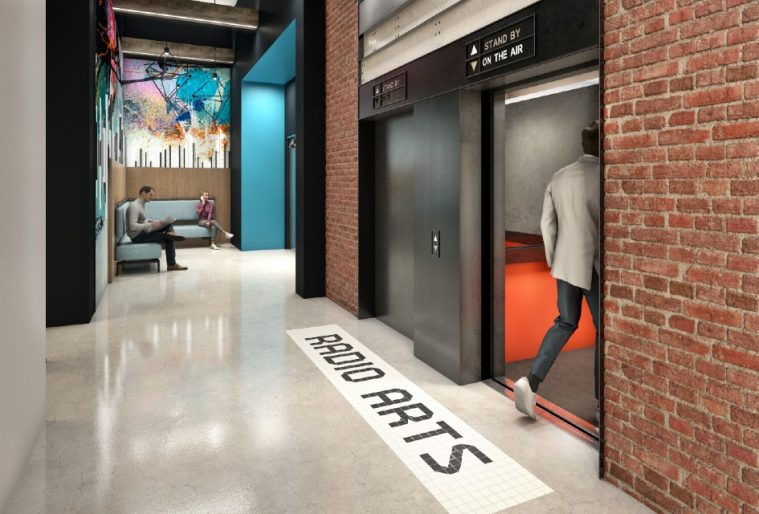 Construction will be led by Norstar, while Baudit Interior Design will handle the inside aesthetics.
"There's a distinct vibe in the city that plays on the sophistication of brick and beams while inspiring creativity," says Erika McCarthy, Partner at Baudit Interior Design. "I've seen how Hamilton has grown with the arts, music, and food scenes. Still, Hamilton's approachability has been consistent, and it's important that the design of Radio Arts reflected this in the interior design."