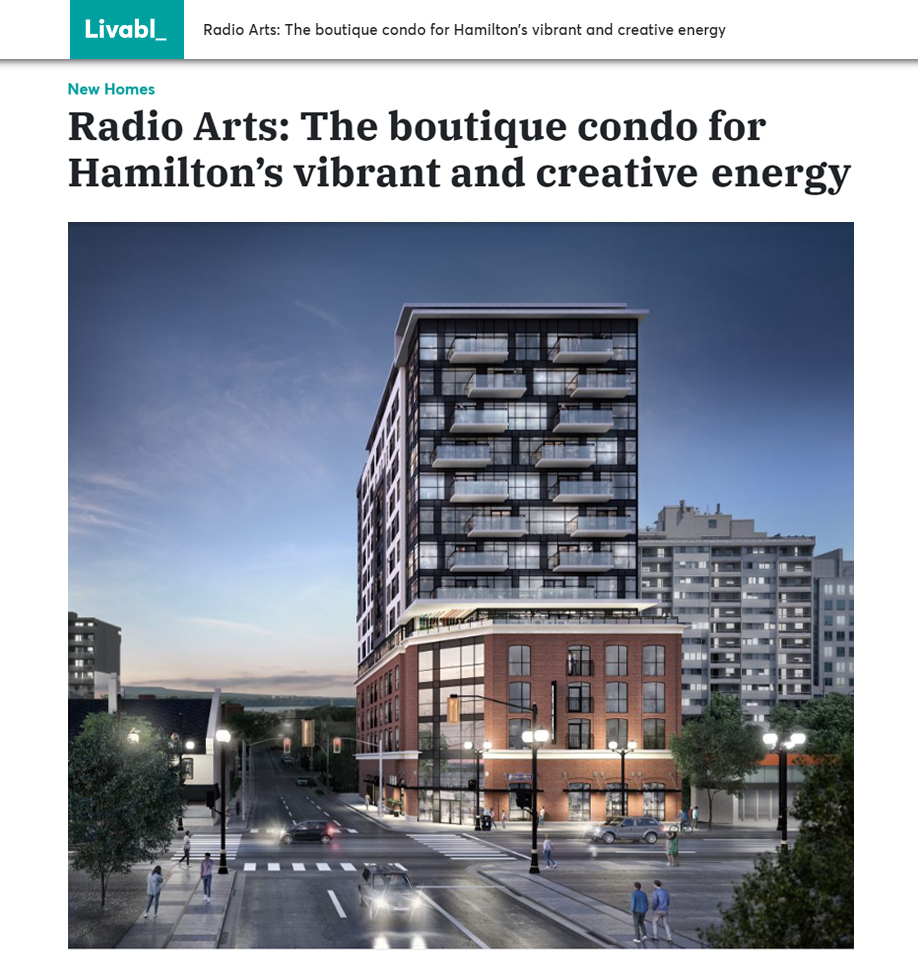 27 Oct

Livabl_: Radio Arts: The Boutique Condo for Hamilton's Vibrant and Creative Energy

Transforming the site of Hamilton's former radio broadcasting station, Radio Arts is in tune with boutique living on an urban scale. Boasting amenities like a coworking lounge and social terrace, Radio Arts is the second Hamilton project by Canlight Realty Corporation following the redevelopment of the iconic Pigott Building.

Livabl spoke with Vernon Shaw, founder and president of Canlight Realty Corporation, to learn more about Radio Arts.

Where is your project located? Why did you choose this location to develop?

Radio Arts is located at the former site of Hamilton's CHIQ radio station. At the corner of King and Caroline Street in downtown Hamilton, Radio Arts is a project that celebrates the cultural footprint of the growing neighbourhood.

Hamilton is a city full of charm. From the brick-and-beam style of architecture to the youthful vibrancy of students and artists, it's a city with an identity of its own. I first got a taste of this when we led the redevelopment of the Pigott Building, an iconic Hamilton landmark. Since then, I've had a lot of love for the city.

What makes this community a great place for investors?

We designed Radio Arts to meet the needs of Hamilton's growing community. At 14-storeys high, this boutique building offers studio units to 3-bedroom suites. As downtown Hamilton grows, we'll see additions like the LRT line and the redevelopment of the City's waterfront usher in a wave of employment opportunities. We can also expect that the nearby university and colleges will continue to attract students to be a part of Hamilton's downtown.

Are there any exciting amenities in or around the neighbourhood?

Because of its superb location, we are convinced Radio Arts will be a defining gateway to downtown Hamilton. The cobblestone district of Hess Village is a short walk from Radio Arts and is frequented by McMaster University students. Locke Street is another popular destination for critically acclaimed restaurants and coveted galleries. The City's waterfront is also nearby and offers an abundance of trails and attractions for people of all ages to enjoy.

We've crafted the building amenities package to further celebrate the cultural vibrancy of downtown Hamilton. Atop the brick podium of Radio Arts is the coworking lounge with an adjoining terrace that overlooks King Street West. The building is then crowned by a rooftop social lounge that features expansive views of the city. A second-floor fitness studio was also crafted for the exclusive use of residents.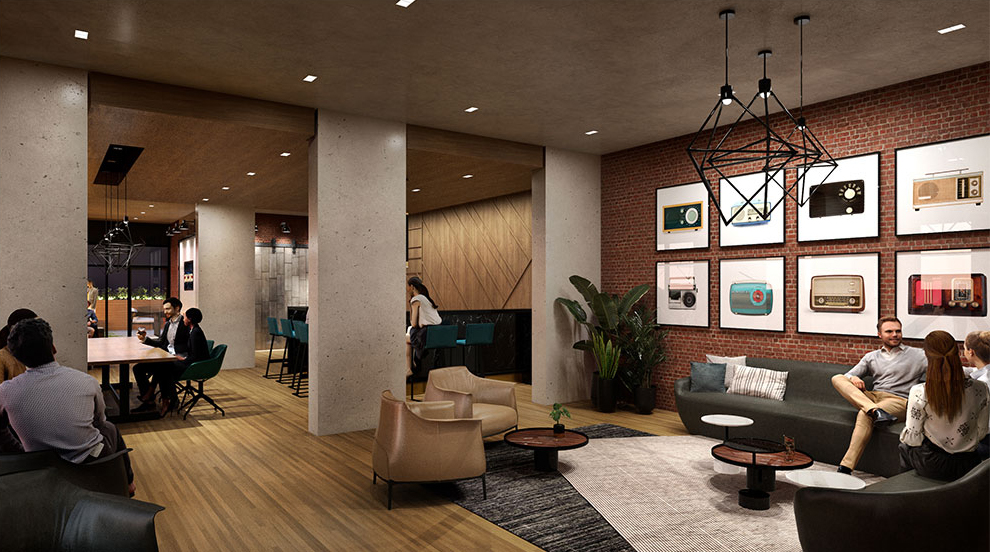 What do you think the surrounding area will look like in 10 years?
Connectivity will be a driving force for Hamilton's evolution. Radio Arts is centrally located near the Hamilton GO station, which offers convenient access to Toronto and the GTHA by train. Additionally, plans for a Hamilton LRT line are underway. The line will travel along King Street, fronting Radio Arts, and connecting to key destinations like McMaster University.
Plans are also in motion to further establish Hamilton's downtown entertainment district. The city-backed Downtown Entertainment District plan is investing $50 million in renovating the sports and entertainment arena.
What was the inspiration behind the design of the interiors or exteriors?
We were inspired by the building's original character and history as Hamilton's former radio broadcaster centre. The building design draws from the original brick and beam aesthetic. We've also planned to recreate the original interior tile, which spelled out Radio Arts.
It was always our vision to seamlessly weave into the existing neighbourhood character, so I enlisted a design and development team with close ties to the City. With a successful career in real estate across Canada, Hunter Milborne brings his marketing expertise back to the neighborhood he grew up in. The architect firm, KNYMH Inc., who is behind the revitalization of the Royal Connaught building, and Hamiltonian, Erika McCarthy and her team at Baudit Interior Design have both helped to bring the vision for Radio Arts to life.